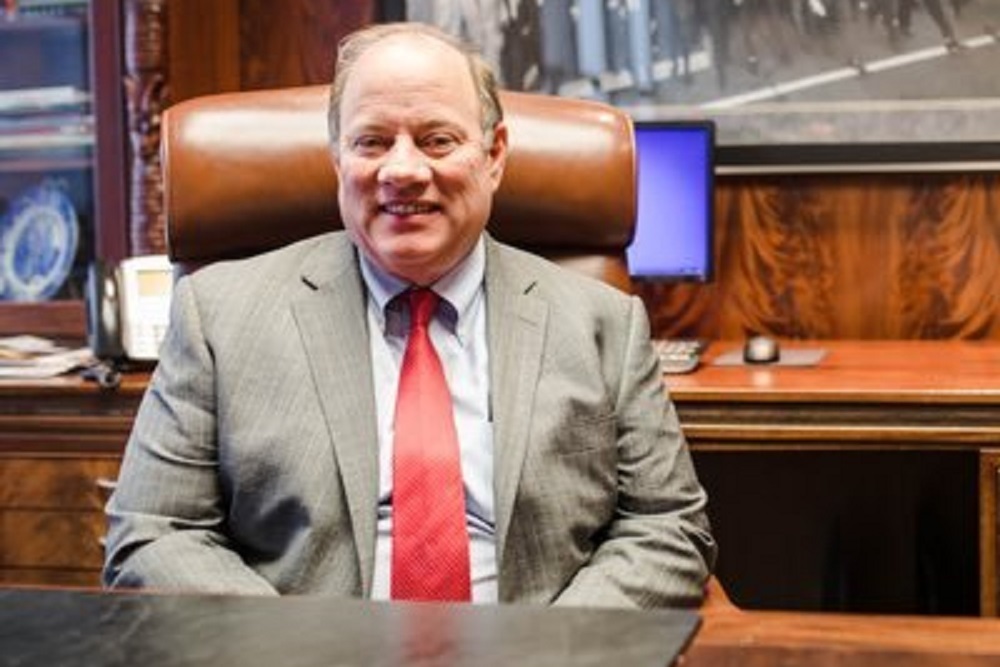 Detroit Mayor Mike Duggan | twitter.com/MayorMikeDuggan
A series of projects and proposals with goals of creating roughly $3.6 billion in capital investment and produce 741 new Michigan jobs recently were given official Michigan Strategic Fund (MSF) support.
A Michigan Economic Development Corporation (MEDC) press release highlighted each of the projects, which seek to reinvigorate Michigan communities.
Dakkota Integrated Systems, LLC will build a 300,000-square-foot manufacturing facility in the area of the former Kettering High School and Rose Elementary School in Detroit. It will design and provide suspension assemblies and instrument panel assemblies to Fiat Chrysler Automobile's (FCA) future Jeep Grand Cherokee and Wagoneer model assembly plants before branching out to working with other automotive industries.
This project hopes to generate a $45 million total capital investment. Dakkota received a $1.5 million Michigan Business Development Program grant and was approved as a Next Michigan Business within the boundaries of the Detroit Next Michigan Development Corporation Renaissance Zone for 15 years with a $3.5 million estimated worth.
It will also seek to create 400 new jobs. Dakkota is prioritizing hiring qualified local residents through Detroit at Work, Detroit Employment Solutions Corporation and Detroit Economic Growth Corporation and will provide formal training lessons and tuition reimbursement.
Detroit Mayor Mike Duggan is confident the project will shine new light on Detroit's business climate for outside vendors.
"I'm optimistic that this development will help attract another supplier to redevelop the rest of the Kettering site and bring even more new jobs to our city," Duggan said in the MEDC press release.
The Michigan Department of Transportation also contributed $832,939 in grant funding for transportation solutions, with the City of Detroit matching $268,018 of the funds.
Detroit's Eastern Market will soon be home to the Mosaic Eastern Market Redevelopment Project, which will provide spaces for food businesses and restaurants, offices and public events. A nearby small ancillary building will be torn down for a parking lot to be created.
The redevelopment project seeks to produce more than $24 million in total capital investment with an opening of roughly 300 full-time employment positions. MSF gave approval to the City of Detroit Brownfield Redevelopment Authority in local and school tax capture worth $3.7 million to use for the site's brownfield conditions alleviation.
Detroit's West Village neighborhood will see a parking structure demolition, building construction and property renovation of four buildings to pave the way for the Jefferson Van Dyke LLC community development project. Aside from constructing commercial space and 36 mixed-income residential units, the project will include a restaurant, additional living spaces and a café. A number of environmentally friendly additions to be seen include a green alley, green and blue roof technology and an art gallery.
Financial support includes a MSF-approved $3.3 million Michigan Community Revitalization Program performance-based loan, MSF local and school tax capture worth $3.7 million and a $2.5 million Affordable Housing Leverage Fund (AHLF) loan.
The final project is the Osi Apartments at West End, a four-story mixed-used residential area located alongside Detroit's Grand River corridor. With retail space and 30 mixed-income living spaces, it will be the first community development plan constructed in the West End Gallery District.
These apartments are looking to generate $6.6 million in total capital investment and open up two new jobs.
MSF approved a $1.2 million Michigan Community Revitalization Program performance-based loan for the project, while also supplying the City of Detroit Brownfield Redevelopment Authority with local and school tax captures worth $226,767.
Additionally, MSF approved Global Retention MEGA tax credit agreement with General Motors (GM) amendments in the hopes of providing GM more flexibility with operating their Michigan business while ensuring their commitment to developing Michigan mobility solutions for years to come.
GM is investing at least $3.5 billion to the state under the new MSF approved amendments: reduce their Global Retention MEGA credit term by $325 million to remain at $2.27 billion, adding annual caps for the remaining credit term through Dec. 31, 2029, terminating the company's MEGA credit at its Brownstown Township facility which reduces Michigan's liability by $4.1 million, increase the state's average weekly wage to $1,300 for the remaining credit term, permitting statewide job retention, and supplying Center for Automotive Research estimates that demonstrate every automotive assembly plan's job holds an eight-job multiplier across the supply chain.